Miss Hybrid Thigh Boots And Christmas Baubles 4K Video and HQ Photo Update
Miss Hybrid thigh boots and Christmas baubles 4K video update.
Miss Hybrid is in festive spirit and is playing with her brand new 4K video equipment. Miss Hybrid has attached her Christmas baubles to her magnificent and now rock hard nipples. The Ultra HD 4K video starts with a view of Miss Hybrid's stunningly sexy legs and slowly moves up her perfect figure to reveal the nipple attached baubles. Will the baubles remain in place as Miss Hybrid rides the Hitachi Magic Wand? Whilst fucking herself through ripped pantyhose with the spiked heel of her leather thigh boots.
Please watch the YouTube friendly trailer and click on the preview screen cap below to see the Miss Hybri Thigh Boots sample gallery of screen caps from the Uncensored hard core version available inside misshybrid.com.
Miss Hybrid thigh boots and bouncing baubles YouTube friendly preview 4K video.
Miss Hybrid thigh boots fuck 4K video.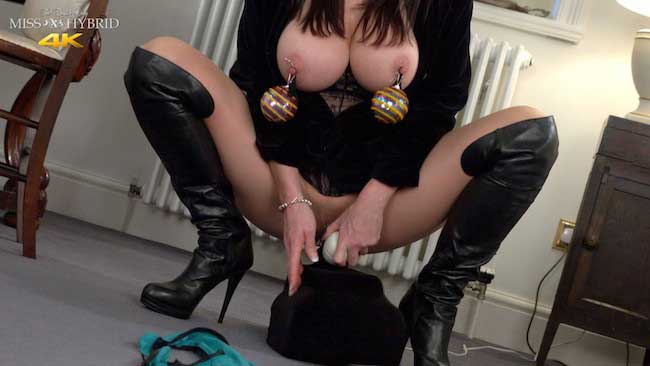 To see the complete Uncensored, hard core 4K video and super size photo update plus all of Miss Hybrid's HD videos and photos please click here to visit misshybrid.com.
And to keep up to date with all the goings in and comings off at the Manor please click here to visit misshybridblog.com.